The Future of Eco-Friendly Outdoor Adventures
Our story is one born from the rugged wilderness of Victoria, Australia, where the raw beauty of nature is as breathtaking as it is unforgiving. It was mid-July, and the chill of the Australian winter enveloped the landscape. Four friends, united by wanderlust and the thrill of adventure, set out in their Tesla to immerse themselves in the serenity of a national park, with spirits high and hearts full of excitement.

As night descended, so did the temperature, and the group faced the ultimate outdoor trial. Two of us sought shelter in a traditional camping tent, while the others remained in the car. The stark contrast between the biting cold outside and the retained warmth inside the Tesla was an eye-opener. Those in the tent battled the cold, a night so frigid it was etched into our memories, while those in the car embraced the comfort of their futuristic haven.

This experience was more than just a brush with nature's icy breath; it was the spark that ignited the creation of Tentsla. We envisioned a tent that could capture the Tesla's essence of innovation, warmth, and security. A tent that wouldn't just stand against the cold, but enhance the camping experience for Tesla enthusiasts, allowing the car's warmth to extend beyond its confines.

Thus, Tentsla was born – a pioneering tent meticulously designed to integrate with Tesla vehicles. It's a haven that promises to keep adventurers warm, safe, and snug, mirroring the car's cozy interior. Whether you're facing the chills of a Victorian winter or the unpredictability of terrains beyond, Tentsla is your family's steadfast companion, ensuring the cold is a worry of the past.
Embark on a journey of comfort and sustainability with Tentsla, the tent revolution designed exclusively for Tesla vehicles. As the world moves towards greener pastures, Tentsla leads the way in eco-conscious camping gear, offering an ingenious solution for the electric vehicle adventurer.

Crafted with precision, Tentsla is more than just a tent; it's a portable sanctuary that aligns perfectly with your Tesla, ensuring a seamless integration that stands strong against the elements. Our tents are engineered to accommodate up to four adventurers, making it the ideal choice for families eager to explore the great outdoors together.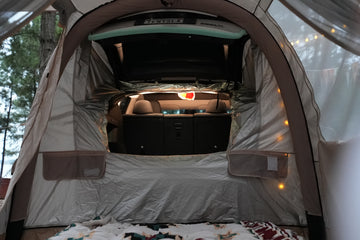 We are proudly
American Brand.
Weather Proof Fabric

Tentsla tents are crafted from materials that not only respect the environment but embrace it.

Lightweight

The total weight of a Tentsla is less than 50lbs (22kg) and can be easily stored within your frunk or lower back trunk


All Season Comfort

Thanks to the material, Tentsla is made to resist up to 6000mm rainfall and can hold up warmness and A/C.
Want to drop us a line?
Address
6547 N Academy Blvd 2266
Colorado Springs, CO 80918
Information
+1 347 671 1892
Support
+1 347 671 1892